This shop about How to Give Back to Pets has been compensated by Collective Bias, Inc. and its advertiser. All opinions are mine alone. #PurinaMysteries #CollectiveBias
 It is no secret that I am a huge dog lover. My four are all rescues, all dear to me and all an iatrical part of our daily life. They all have stories that started out rough. Bud was a dump as a puppy, Piper was a six year old needing to get away from a family who drugged her to submit, Jack was abused and lost his eye as a result and Joy, my feral dog, was ignored and abused as her start to life. While many may look at the me as a savior to these four, the truth is, the dogs saved me. Each one came into my life at a time when I needed their unconditional love the most. While they have given so much more to me than I ever could give to them, I want to make sure what I do give them makes their lives as wonderful as possible. Let's face it, though, it is not the cheapest thing to take care of four dogs. Luckily, PetSmart and Purina understand that and are always working together to help give me perks that I can use to continue to take care of my dogs. Like this month. Shoppers at PetSmart who purchase $40 of Purina products from 6/1 – 6/30 get a $10 gift card back! See below for more details but this is a great way to stock up for your pets too! It is also a great way to Give Back to the Pets that Give is So Much!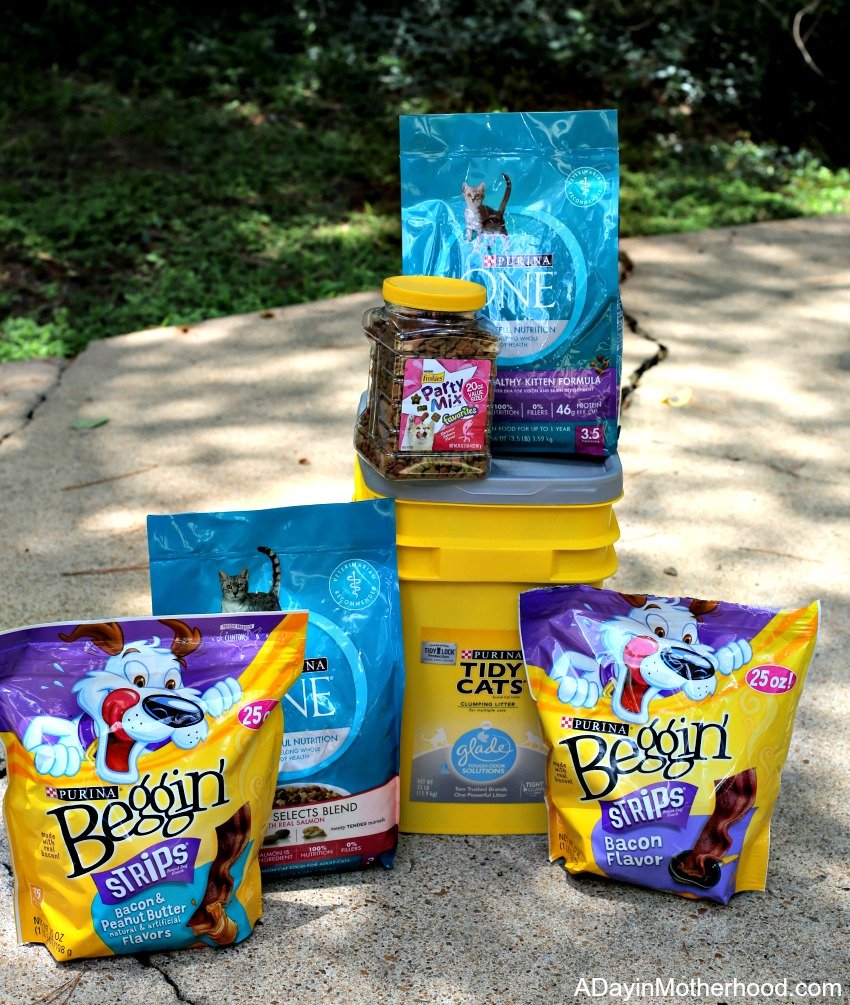 Share your story of how your pet stole your heart online with hashtag #PurinaMysteries!
Feed Them Well
This may seem like an obvious message to all of us who take care of pets. But there are a lot of pets that are not getting the nutrition they need. Food should be chosen based on your pets needs, not the price tag associated with it. Luckily, Purina has a huge line of products in every price range that allows us to choose well for our pets.
Treats are also very important. Not only are they a show of love to our pets, as long as we don't overdue it, but they can be used as training props as well. My dogs L O V E Purina® Beggin'. Like. LOVE. So I stock up on the huge bags when I go to PetSmart. This month, since I know that I get a $10 gift card for every $40 I spend on select Purina products, I really stocked up!
Getting my $10 gift card was easy. I simply took a photo of my receipt, uploaded it to my computer, entered my information on the redemption site, loaded my receipt to it and that was it! Now I just wait on my gift card to come through. I can upload as many receipts as I want from 6/1 – 6/30 to get the $10 gift cards. You have until 7/9/17 to upload all of your receipts from that time period!
I love this almost as much as my dogs love their Beggin' Strips! Anything that helps me choose quality products for my beloved pets at affordable prices is a win for me!
Give Back to Pets by Helping Those Who Rescue Pets
As I was planning my big stock up trip to PetSmart, I came across a post from my neighbor's daughter, Taylor, who had just rescued 9 kittens. She took them in from a woman who spends her Saturday's finding cats and kittens and tracking down good foster homes for them. These guys melt my heart and if it were not for 4 dogs and a doggie door where they could get out and get lost, I would take at least two!
Even though I can not take any of these sweet babies, I can help Taylor and people like her who take time out of their lives to help pets who need them. These guys are 6 -8 weeks old and will need homes soon but, until then, Taylor has to take care of each one to get them as healthy and socialized as possible.
So while at PetSmart, I stocked up for her too. I got her two bags of Purina ONE® Kitten food, a HUGE container of Purina® TIDY CATS® Litter and some Purina® Friskies® Party Mix treats so that she does not have to carry the burden all on her own. She and her mom were so appreciative yet I felt like I did so little compared to what she is doing.
Helping out those who rescue pets is a great way to give back to pets. With three of my dogs having foster homes before me, I certainly have a soft spot for those who nurse animals back to health.
If you are interesting in adopting one of these precious babies, email me at lori@adayinmotherhood.com and I will get you I touch with Taylor! They live in Houston, TX.
Donate to a Rescue
If you want to know a sure fire way to give back to pets, please donate to a rescue. I try to give at least once a year, if not more, to the rescue that took care of my three beagles. It does not take much. $20 will feed several pets and help chip into their overwhelming medical costs. My Jack's surgery alone was over $2000 and that did not include his care before and after. With adoption fees from rescues being relatively low, donations help tremendously!
Our pets give us so much that we don't ask for. Love, comfort, laughter and interaction. It is time we give back to pets in ways that really matter!
Head to PetSmart today and stock up on your Purina products to get your $10 gift card! Then use the products to feed your pets well and to help those who need it most!
Purina has a wide variety of food, treats, and litter for your pet available at PetSmart, which helps take the mystery out of how to care for your pet and give them what they truly want! Millions of furry, hopeful and lovable pets will appreciate it!
When was the last time you shopped at PetSmart?