This shop has been compensated by Collective Bias, Inc. and its advertiser. Product was provided by the client for review; however, all opinions are mine alone. #WorldsSmartestToothbrush #PhilipsSonicare #OprahsFavoriteThings #CollectiveBias
I realized over the weekend that there are only 15 days left until Christmas Day. 15 DAYS! How did that happen? How did it sneak up on me, again, this year? I have nothing for anyone. The kids are fairly easy. I can roam through a store and find things that they like. But my friends are a harder. Especially those friends who mean the most to me. Like my assistant, Andy. She has been invaluable to me since starting with my social media management company several months back. She is on time, eager to learn, works the entire time she is here and has become a very dear friend! I could give her money, which everyone loves. The Sonicare DiamondClean Smart 9500 Rechargeable Toothbrush was named one of Oprah's Favorite things in 2017, and I had the chance to try a DiamondClean Smart for myself with the Philips Sonicare DiamondClean Smart 9300 Rechargeable Toothbrush! This thing is pretty awesome and I want one for me now too! There is a reason Oprah loves it! After ordering it on Amazon I decided to put together a gift basket with the Philips Sonicare DiamondClean front and center. See how to Style a Gift for that Ultimate Oprah Fan and why this toothbrush is leading the pack for a cleaner mouth!
Click below to see how to order this on Amazon!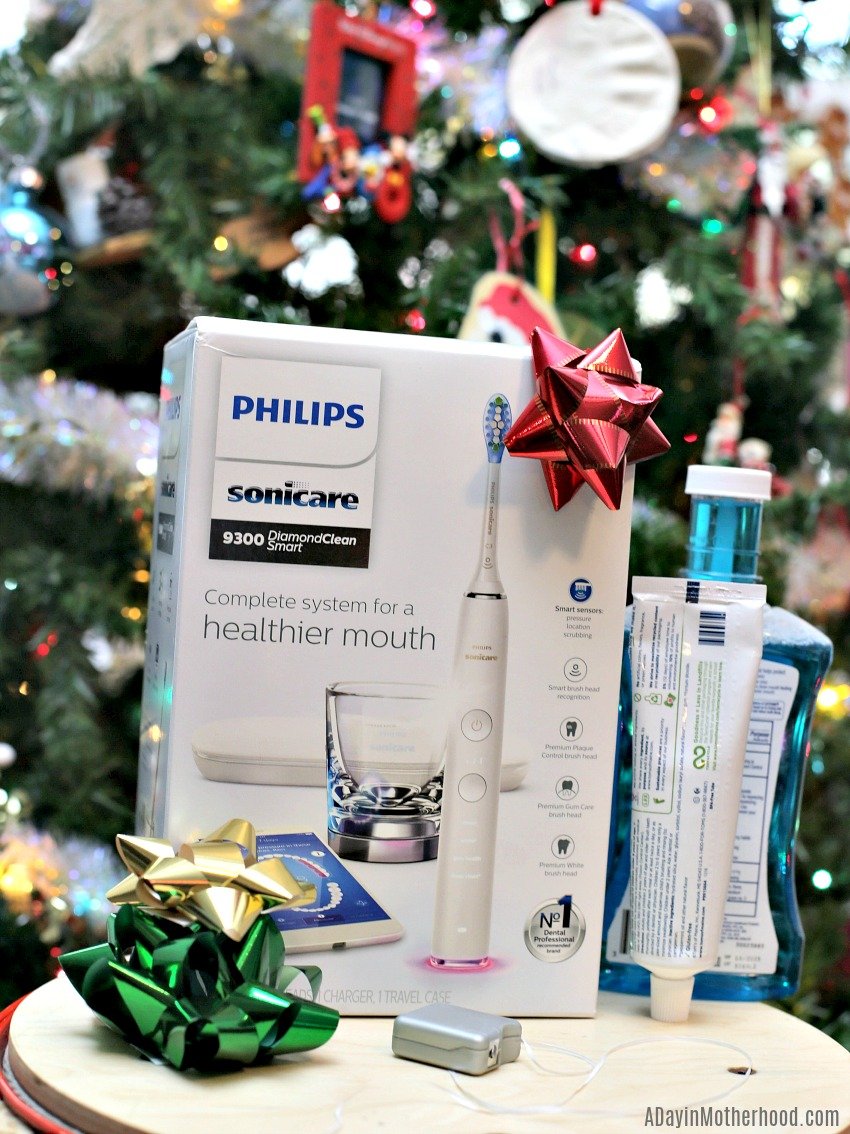 Choose the Main Gift
While gift baskets are a generally a hodgepodge of items thrown together with a theme, I like to have a main gift to anchor the whole thing. In this case, it is the number 1 Dental Professional recommended brand! This is the best ever toothbrush for complete oral care. Now you can care for your whole mouth, teeth, gums and tongue. Only the new DiamondClean Smart has four high-performance brush heads and Smart Sensor technology for personalized feedback and coaching. It gives you superior results and 100% confidence in your oral care – every time.
There are 4 modes and 3 intensities let you focus on each aspect of your oral health on the Philips Sonicare DiamondClean and it automatically adjusts to the optimal mode and intensity level! Plus, and I love this feature, you can connect with Sonicare app to get real-time feedback and personalized coaching.
As always, our oral care is very important all the time. Andy has a beautiful smile so I love that I can give her the gift of a healthy smile!
Choose the Basket
I used to choose the basket first and then stuff it with what I could find. I learned that, if I do that, I limited my creativity. So I only choose the basket after I know what I am buying. That way I get the right size, color and even shape! Yes, that's right! Shape!
I like to choose baskets based on the main items shape. After all, when you are giving Philips' best ever toothbrush for complete oral care, you want it to stand out as the awesome gift it is! So enhancing it by choosing the perfect basket is important!
Choose the Fillers
Fillers are those things that 'fill in' around the main gift. This basket is easy. Fillers should be in relation to the main gift to enhance it's value and to help the recipient use the gift as well! So, for the gift basket that has the Philips Sonicare DiamondClean, we need more whole mouth care items! Dental floss, mouthwash, bathroom towels that are fun and whimsical all complete this basket beautifully!
Choose the Flair
Flair is the decor! I want to focus on the Philips Sonicare DiamondClean toothbrush so my 'flair' is based on the colors on the box. Blue and white! I found blue and white tissue paper which can be stuffed in between items to make this gift pop! You can also add ribbon, colorful confetti and more to make your basket really stand out!
Now that I have the gift of superior sonic technology, some other items to enhance it, the basket and the flair, I am ready to gift the Philips Sonicare DiamondClean to my valued assistant! I know she is going to love it as an Oprah fan, a tech person and as someone who needs a little something to spoil herself with!
Who on your list is an Oprah fan? Check out her list and the Philips Sonicare DiamondClean toothbrush and create your ultimate Oprah Fan basket too!