This shop about a Guest Room Toilet Basket has been compensated by Collective Bias, Inc. and its advertiser. All opinions are mine alone. #TheOtherBowl #CollectiveBias
If I told you that Thanksgiving and Christmas were pretty cool holidays but not my favorite you would think I am nuts. Unless you know me personally. Those that hang out with me know that Sundays and the Big Game are my favorite days of the year. Hands down. Pigskins, gridirons and screaming at the TV when a ref makes a call against my guys is the way I would like to spend every day. The thing that makes the Big Game so awesome is that I invite people over, make snacks and scream with an audience! As we all know, though, when you have a party, any party, the guest bathroom gets a lot of use. I want my guests to make themselves at home here and to feel comfortable in every room in the house! That is why, especially before the Big Game, I make a Guest Room Toilet Basket complete with everything they need to feel comfortable, like Poo~Pourri!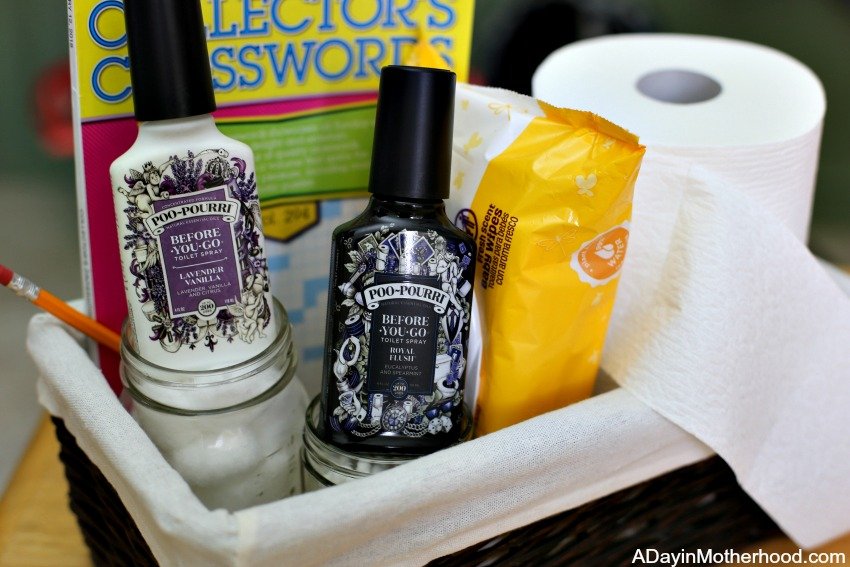 What is Poo~Pourri, you ask? It is a great little bathroom spray you use before you 'go' to help mitigate the odor created. It's pretty simple, really! When spritzed into the toilet bowl before-you-go, Poo~Pourri's pure blend of NATURAL ESSENTIAL OILS creates a film on the surface of the water.
I first saw Poo~Pourri's at my gym. It sits on the back of the toilet ready to be used in an instant. I have used it and am always impressed that I can 'go' without the embarrassing odor ratting me out! The protective barrier traps odor under the surface, before it ever begins! All you'll smell is a refreshing bouquet of NATURAL ESSENTIAL OILS. Flush yeah!
Poo~Pourri has nothing in it. Well, it has essential oils, obviously, but it has NO synthetic fragrance, NO alcohol, NO aerosol, NO parabens, NO phthalates and NO formaldehyde. With over 40MM bottles sold and 15,000+ 5 star reviews it clearly works without all the crazy stuff in it!
Since the Big Game is around the corner and the invitations are sent, it is time to start planning my Guest Bath Toilet Basket complete with Poo-Pourri ready to use! I ordered my Royal Flush®  and Lavender Vanilla 4 fl oz bottles on PooPourri.com. I got them in one day, though you can choose another shipping method – like FREE shipping on orders over $19.99 – to get this useful product into you home.
When creating a basket of any sort it is important to think about all of the things that might be needed by a guest. Extra toilet paper, of course, is a must, right along with the Poo~Pourri. But I like to consider other issues too.
I, for one, love to do crosswords on the toilet. Some people read, some play games on tablets, some just sit and reflect on life. It may seem 'gross' to admit what you do but I am pretty sure most of us like an activity! So, I included a Crossword Puzzle Book and a pencil in my Guest Bath Toilet Basket!
Also included are wipes. Do I need to explain that? I don't really think so. I am always amazed at how much people appreciate them, however.
Last but not least, I add some cotton balls and cotton swabs to the basket. Throughout any party people may need to help clean a kids boo-boo, reapply some make up, or may need them for anything else. So I like to keep them handy for guest.
Find a stylish basket that fits well on the back of the toilet and stuff it full! Guests will appreciate it, especially the Poo-Pourri, and you won't be running around looking for items they need!
Order NOW!
My guest baths are stocked now so I am set! COME ON BIG GAME DAY!
What do you put in your Guest Room Toilet Basket?