This shop about DIY Basketball Bucket Game has been compensated by Collective Bias, Inc. and its advertiser. All opinions are mine alone. ##GoldfishGameTime #CollectiveBias
I don't care what the groundhog says. Spring is COMING! It can not be stopped and I could not be more excited! Walks with the dogs, bike rides with the kids and birds chirping through the sunlight are all I need to be a happy girl. I was giddy with happiness as I saw all of the springtime plants at Walmart this weekend. Rows and rows of happy colors kicking off the season! I love Springtime and, even though it does not last long in Texas, it is still worth celebrating! One of my favorite parts of springtime? Getting the kids out of the house! Yes, I said it. After being cooped up with two whole snowfalls in South Texas this year (a record here for sure!) and days that fluctuated from heavy coats to shorts in a matter of hours, we are all ready to brush off the sweater fuzz for flip flops and tank tops! How do I encourage them to get outside and play? With fun games and their favorite snacks on hand at all times! Like my DIY Basketball Bucket Game and Pepperidge Farm® Goldfish® crackers.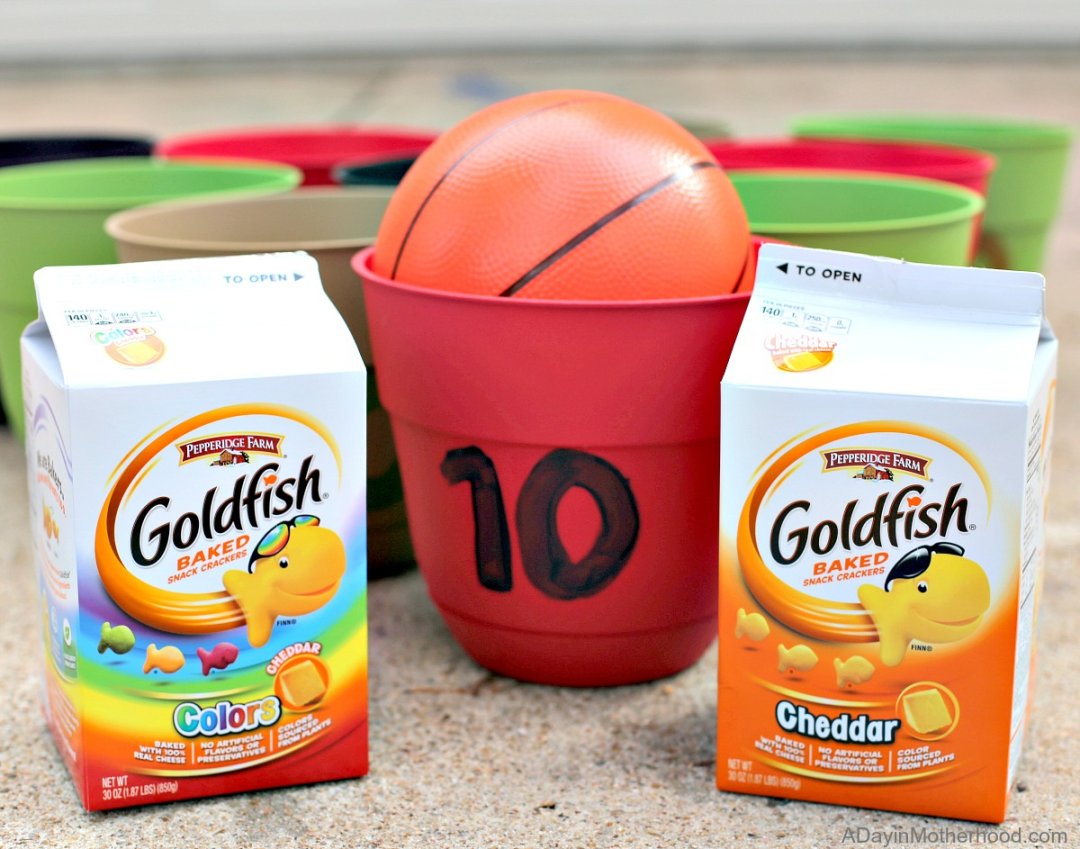 Click the image above to shop for Goldfish crackers on walmart.com!
This DIY Basketball Bucket Game was inspired by my 8 year old daughter. Her sisters LOVE basketball and could play it all day long in our driveway. But she, try as she might, just can't get the ball into the hoop like she wants to. So I had to come up with a game that she could play that her sisters would love too!  Thinking of the arcade games where you roll a ball into a bucket, I strolled through the aisles at Walmart looking for supplies! We still love our DIY Stacking Game we made last year so adding to outdoor games with this one will be fun!
On the way to the garden center, though, I had to stop and grab cartons of Pepperidge Farm® Goldfish® crackers in the 30 ounce cartons! I loaded the cart with Goldfish crackers Cheddar and Goldfish crackers Colors. These are Megan's favorite snacks so, since she inspired the game I was making, and because Goldfish crackers are on rollback at Walmart (in store only) for only $6.46 per 30 ounce carton, I could not pass them up.
Goldfish crackers in the cart, I headed to the garden center. I needed the buckets. Utility buckets would work OK but I wanted something without handles. Along the way I picked up a rubber basketball that is very bouncy and very fun in this game!
I found some fun and colorful planters and snapped them up! They are the perfect size for the basketball I had and already colorful, cutting down on my painting work!
I also added kid's paint and paint brushes to my cart.
Once home with all of my supplies, assembly was super easy.
I lined up the planters in the order I wanted and began painting. I numbers 10 planters from 10 to 100. Whichever planted the ball goes in is the points the girls get!
Once the planters were painted I put rocks in the bottom of each planter to make them more sturdy.
I used sidewalk chalk to make a 'score board' for the kids so they could keep track of their points! You can also use a clean sheet of paper or cardboard and use Goldfish crackers as score markers!
I then let the kids loose and watched as they laughed, played and snacked on Goldfish crackers between their turns!
The kids played for hours, snacking on their real cheese snack and smiling and laughing along the way. This is a super fun game that even I got into and loved! For an added challenge, try shooting Goldfish crackers into the buckets and seeing how many points each player can rack up in a minute!
How are you planning on getting everyone out to play this spring? For more game time inspiration with Goldfish crackers, visit this website.