**This is a conversation about Dealspotr sponsored by the client. All opinions are my own.** ad
Use Code LOMARGIE to start with Dealspotr & earn $5 Instantly!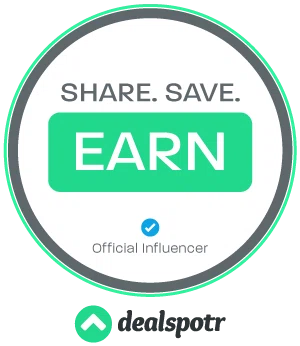 One of my resolutions, which has actually started this holiday season, is to save more on what I spend. I work really hard and every penny counts. I have three kids to raise, support and to plan for future expenses, after all. So when I started searching the web for the best saving sites out there, Dealspotr came up and intrigued me. The basics are easy. Sign up NOW using code LOMARGIE and get 5,000 points, or $5 instantly! The search and save with deals from everywhere, like Amazon, Walmart and CVS!
When you click on this link to go to Dealspotr, you will use LOMARGIE in the code area. Then, complete your new user profile, which takes no time at all, post your first deal, which is even easier, and earn your $5 which can be taken out via PayPal or Amazon credit! The more deals you post and re-post (think retweeting), the more you can earn! A great way to build your points on Dealspotr is to refer new members, then work with them to get them activated posting and validating deals. As you build your network of activated referrals, you earn a percentage of their points, in addition to points you earn for your own activity on Dealspotr.
We all use social media to share great deals and site with our friends! Now you AND your friends can earn by building an awesome network of savers!
Posting deals is the primary way you can help other people save money on Dealspotr. Once you get started, you would be amazing at how easy this is! If you are an online shopper and you see deals somewhere, you just repost them to Dealspotr so others can see them too! To add a deal, simply hit the "Post a deal" button which is available across the site. The deal posting tool will guide you through the information you need to provide in order to help shoppers successfully redeem your deal. You earn points on Dealspotr for posting deals.
Early on I thought this seemed like a lot of work. However, after using it a while I realized that it is super simple and that this process prevents deals that are not real! I love it and hope you will join me in the quest to save BIG this holiday season!
Use Code LOMARGIE to start with Dealspotr & earn $5 Instantly!