This shop has been compensated by Collective Bias, Inc. and its advertiser. All opinions are mine alone. #SpoonfulsOfGoodness #CerealAnytime #CollectiveBias
Mornings are nuts. I get up between 5 – 5:30 am, make my coffee and sit down to work a little before I have to get the kids up. At 6:30 am, I get my oldest daughter up. While she gets herself ready, I pack her lunch, put cereal in a baggie for her breakfast, and pack her snacks for the day. Her carpool arrives right around 7am and then it is time to get my other two daughter's up. With them, I still have to help. I have to find shoes, help with hair and teeth, explain that we pick out clothes the night before and can't change our minds in the morning – 50 times a morning – and get them packed up for school too. Every day as I walk them to the bus stop, usually in socks or mismatched shoes because I did not have time to find my shoes, I wish I could have done better. At least on the breakfast end. Cereal is great, don't get me wrong. I eat it for breakfast, lunch and dinner and the kids take it for school snacks. It is the ONE item I can buy that all of the kids agree on. But in the New Year, I promised myself I would make a real effort to make sure their breakfast included what they loved and a few new items as well! So I thought hard and came up with a great way to get a warm breakfast in my kids using the cereals they already love! My Cereal Waffles with Homemade Fruit Compote Recipe is fast and easy and we all devour them!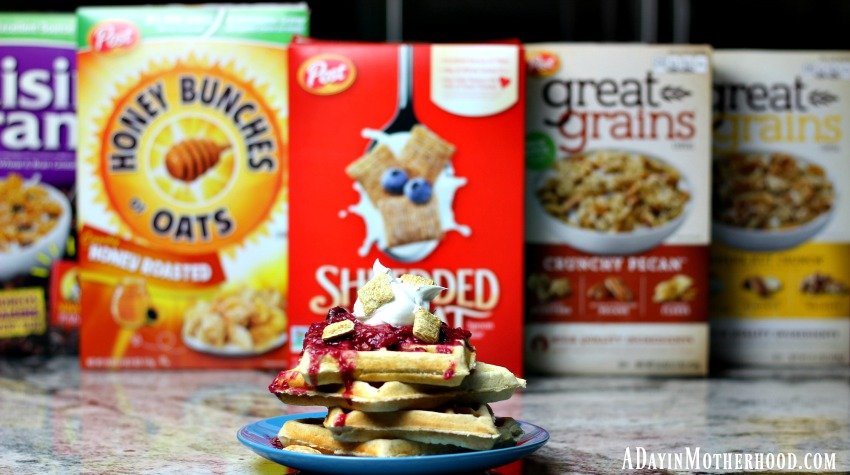 This recipe came by cleaning out my garage. Yes, you heard it. When I cleaned out some cabinets in my garage I found my waffle maker. Honestly, I had forgotten I even had it. With that discovery came the reminder that I can get pretty creative with waffles. So when thinking of a way to combine the girls favorite breakfast items, like Post Cereal's Shredded Wheat Original, Honey Bunches of Oats, Great Grains and Post Cereals Raisin Bran, with a warm breakfast that took very little time, I came up with cereal waffles! It has never been easier to find a healthy and tasty breakfast from Post cereals. They contain fiber that prepares our body for the day and keeps us full until lunch. They also have whole grains that are packed with nutrients, including protein, fiber, B vitamins and antioxidants. With all of the delicious better-for-you options, it is easy bound to find a favorite for everyone in my family!
Cereal waffles are waffles with cereal in them. Simple, right? But the cool things about these waffles are that you can adjust them based on the cereal you and your kids like. My oldest LOVES Shredded Wheat Original, my middle daughter is a Honey Bunches of Oats fan and my youngest loved when I added the Great Grains Banana Nut Crunch to the mix. She said it made the waffles 'sweet'.
Make your regular batter, cut up the cereal you are adding and toss it in. Now, I make my batter and store it in an air tight container until I need it. So I don't add the cereal until it is time to make the waffles. That keeps the all important texture and crunch in tact!
These are GREAT to make ahead of time and freeze too! Just make sure they are frozen in an air tight container. Pull one out in the morning, pop it in the toaster, add the topping and you have a warm, homemade breakfast that kids will love because their favorite cereal is in it!
Speaking of toppings… I discovered an amazing topping at a restaurant a while back. I am not a huge fan of cooked fruit but I accidentally ordered a breakfast with Fruit Compote and I was hooked! The flavor that I had been missing out on all these years was amazing! So, I came home and tried to recreate it. The great thing about Fruit Compote is that you can not really mess it up! At least, I haven't been able to yet!
Cereal Waffles with Homemade Fruit Compote Recipe
Cereal Waffles need a great topping. This homemade Fruit Compote is perfect!
Author:
ADayinMotherhood.com - Lori Pace
Recipe type:
fruit compote
Ingredients
¼ cup EACH of a fruit you love. (I used Raspberries, Blackberries, Strawberries and Blueberries in this one)
3 tbsp orange juice
¼ tspn cinnamon
¼ tspn sugar
Additional add ins if you want:
brown sugar
vanilla
Instructions
In a saucepan on the stove, add all of the fruit. You can adjust the amount of fruit you want but use the same orange juice measurement unless you are adding to the cup of fruit. You want enough liquid to help make the sauce. But not too much. Add orange juice, cinnamon and sugar. Bring mixture to a boil.
Once boiling, take a masher or spoon and mash the fruit. Reduce the heat and let simmer up to 15 minutes. Remove from heat and let thicken about 5 minutes.
Place in an air tight container, like a mason jar, and place what you don't use immediately in the refrigerator.
When you need some, transfer the amount you want to a small bowl and heat up slowly in the microwave.
On my busiest morning I can take a Cereal Waffle from the freezer, pop it in the toaster and set it to 3-4 minutes. While it is cooking, I put some Homemade Fruit Compote in a bowl and heat it up, about 20 -30 seconds in the microwave.
I put the waffle on a plate, add the Fruit Compote, add a little whipped cream and some cereal pieces for flair and the kids and I have a fast, easy breakfast that we all love!
A little side note… the kids love their cereals because of the taste and texture. I love the cereals they choose because I know that they have the nutrients the kids need to stay focused at school. Packed with 49 grams of whole grain and 6 grams of fiber, Shredded Wheat Original is a classically wholesome breakfast. It's so good in fact, that it's recommended by 9 out of 10 doctors to reduce heart diseases. Honey Bunches of Oats has four different types of grains in its 10 grams per serving: rice, wheat, oats, and corn. It's also incredibly heart healthy with 0 grams of trans fat, saturated fat, and 0 milligrams of cholesterol per serving. Last but not least, Post Cereals Great Grains 36 grams of whole grain per serving, 12 vitamins and minerals, and 20% of your daily value for fiber. As a mom, these facts matter!
Get MORE Great Post Cereal Recipe Ideas on Pinterest!
Mornings around here are chaotic. In fact, mine is about to get started. But with a little pre-prep and quality ingredients like Post Cereals Shredded Wheat Original, I can serve a warm breakfast in no time that keeps us all going during the day!
Pick up all of your Post Cereals at Walmart! Which Post Cereal would you put in your cereal waffles?