This shop with 5 Tips to Help Turn Off the Day to Sleep Better at Night has been compensated by Collective Bias, Inc. and its advertiser. All opinions are mine alone. #TryTENAOvernight #CollectiveBias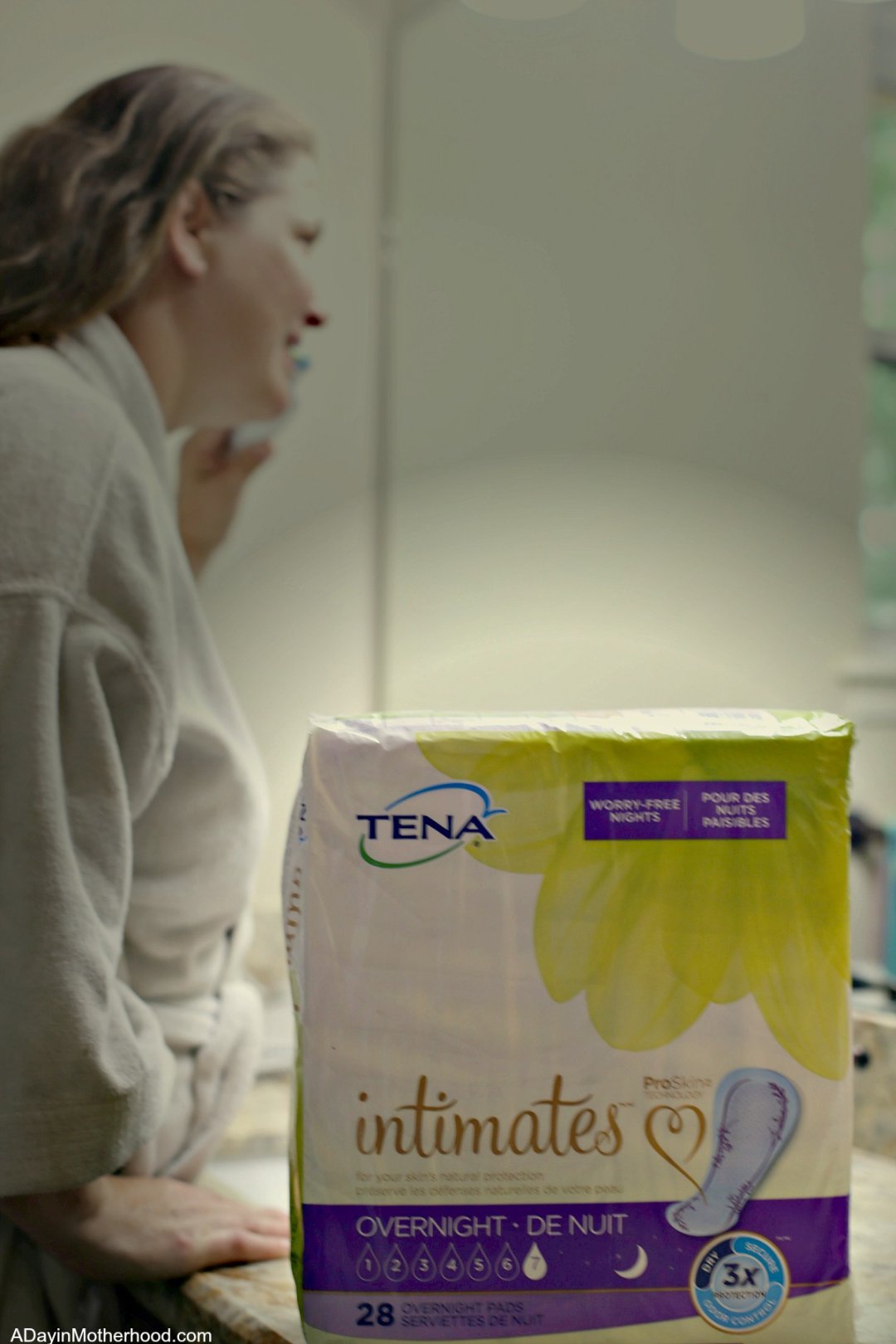 Hover over the image above to see where to purchase the product!
GET $3 off any TENA Underwear through Ibotta in May starting on 5/9
Life is very very busy for every woman I know. I can't remember the last time one of my mom friends said, 'I just sat on the couch and binge watched The Crown all day.'  I will admit, when my kids are are at their dad's house for the weekend, I do have the TV on. But I think I have re-watched or planned to re-watch at least all 90% of the episodes I think I will find time to sit down and watch because I am always up doing something out. My mind goes a million miles a minute. There is so much to think about and so much to handle. The children, family, friends, work, bills, the house, the dogs, taking care of me… just to name a few. Because of that it is really hard to unwind at the end of the day and to let myself fall asleep. I am constantly fighting with making yet another list and letting myself relax. I also fight with my bladder at night. During the day I have mild leakage that can be annoying. But I handle that. Overnight, however, my mild incontinence has been known to rear it's ugly head causing many a wake up call to use the restroom. To help counteract this particular issue with my night time ritual, I now use TENA intimates® Overnight Pads that I get at Walgreens. But to help with the main issue at hand, falling asleep, I have tried so many thing. Finally, I think I have a good mix of methods and have 5 Tips to Help Turn Off the Day to Sleep Better at Night.
Get $4.00 off any one (1) TENA Overnight Pad or TENA Overnight Underwear (2 week duration) with the coupon found in your paper. This offer can only be redeemed in-store and ends 6/3.
Exercise During the Day
There are so many benefits to exercise that we already know. But the truth is, since starting CrossFit 2 1/2 years ago, my sleep has only gotten better. The days that I don't head to the gym I noticeably have a harder time falling asleep and staying asleep. I don't know if it has just balanced my body better so that it functions better, allowing me to sleep, or if I just wear myself out so much that I have to go to bed to recover! But it has made a huge difference!
If you are having a hard time sleeping, try daily exercise, even if it is a walk. I bet it helps you too!
Charge Your Devices in Another Room
This is a BIGGIE for me. My phone and my tablet are on my bedside table charging all night. When my kids are home I at least flip them over and turn the ringer off so I am not disturbed. But when the kids are at their dad's, I have it on and it pings and lights up all night.
The best thing I have done for my sleep, and the easiest, was to move my chargers into my bathroom. I can still hear the phone if it rings, but the dings and light ups are gone. Also, it keeps me from waking up in the middle of the night and rolling over to pick up my phone to scroll. I have noticed that I do sleep better without my electronics right next to me.
Put Your Incontinence to Rest
I touched on this a little but I want to get into it a little more. I am a 45 year old woman who has had three children fairly close together. I have never been shy about the fact that my bladder is just not the same as it used to be. I have to wear protection all day long and even need it at night now. I turned to TENA intimates® Overnight Pads because includes a soft top layer, that quickly wicks fluid away from the skin keeping you feeling intimately fresh and clean. I don't have to worry about leaking out or irritating my skin either. TENA intimates™ helps to maintain skins natural protection with exclusive technology. I feel confident while I am sleeping and, because of that, I don't have to get up as much during the night.
Having to get up to use the restroom in the middle of the night is frustrating enough without having to worry about your incontinence causing multiple wake up calls. Just knowing that TENA intimates® Overnight Pads are with me at bedtime helps me relax and fall asleep!
Turn Off the TV
Guilty, guilty, guilty here! I can not tell you how many times I wake up after falling asleep and my TV is on. We all know it is unhealthy to fall asleep in front of the TV and yet, we all do it! The best sleep I ever get, however, is when I turn off the TV at least 30 minutes before bedtime. I read or I just force myself to stare at the ceiling. But having the light and noise off really helps me fall asleep and stay asleep too!
Get Up Earlier
I know, I know. We all get up too early as it is. But moving up my alarm even 30 minutes seems to not only give me a chance to start my day in silence, and to get a few things done before the kids get up, but it also makes bedtime seem more welcome. I am much more willing to turn everything off and pass out of I am already tired!
Whatever you use to help you sleep at night, it is imperative that we all get enough. Sleeping well just makes everything in life better!
Pick up a variety of TENA intimates® incontinence products to help you get through the night with less worry too! It is the little things that can make the biggest difference!
How do you shut your day off to sleep better at night?