Boehringer Ingelheim reached out to bloggers like me to share our thoughts FRONTLINE® Plus for Dogs. As a participant, I received compensation for my time. Boehringer Ingelheim did not tell me what to say about FRONTLINE Plus or my experience. Boehringer Ingelheim believes that consumers and bloggers are free to form their own opinions and share them in their own words.  5 Tips to Help Make Multiple Dogs Work for Your Family #PetApproved #CollectiveBias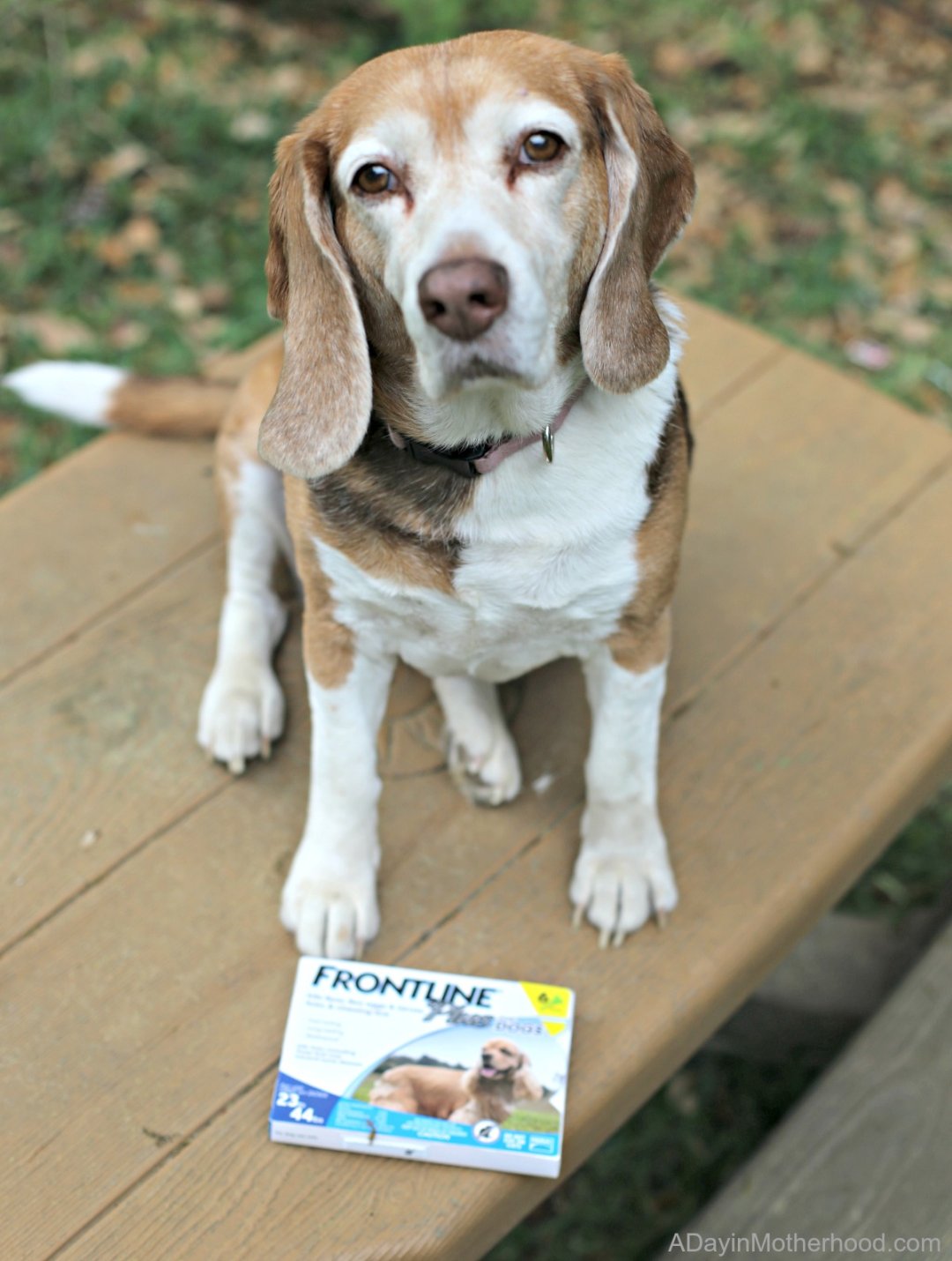 Hover over and click on the image above to shop for FRONTLINE® online at Walmart.com.
People who know me know that I have a major soft spot for animals and their sad stories. Because of that, over a 3 year period, I ended up with four dogs of my own. One, my old man Bud was already here. I found him when he was a puppy. But Piper, Jack and Joy all came in, one a year, after I read their stories and fell in love. Now, you would think that for a single mom of three, four dogs would be enough. But no. Somehow I fell into fostering dogs as well. It all started with the four beagle puppies that had 'no other foster home to take them'. Since then I have had dogs in and out and am currently on foster number 10 and 11. Now as a seasoned caretatker of multiple dogs, I have it down. I think. All of the dogs are happy, healthy and loved deeply. So, as a seasoned multi-dog caretaker, I thought I would pass on some tips to those who are thinking of adding a second dog, a third or even a fourth! Like sharing why the flea and tick protection I have, FRONTLINE® Plus for Dogs Flea and Tick Treatment, really works!
Here are 5 Tips to Help Make Multiple Dogs Work for Your Family!
Make Sure there is enough space for them all
I am very happy and blessed to live on an acre of land. Because of that I can have multiple dogs and know that they have room to run. Not everyone has that, however, so when deciding how many dogs to have, you should consider the yard and outside space. I am not opposed to multiple dogs in apartments as long as they have plenty of walks a day as well!
Think about space in the house as well. Do you have room for dog beds, pet dishes and room in the cabinets for the dog food and products you need, like FRONTLINE® Plus for Dogs Medium Dogs Flea and Tick Treatment. This seems like a small thing but I, literally, had to clean out a portion of my laundry room to fit all of the dog stuff I need!
Protection Against Fleas and Ticks is KEY
When you have multiple dogs, flea and tick protection is the KEY to happiness. If I had a flea or tick outbreak in this house it would be disastrous. So I am ridiculously OCD about making sure my dogs have flea and tick protection once a month that actually works.
For years now I have used FRONTLINE® Plus for Dogs Medium Dogs (23-44 lbs) Flea and Tick Treatment. Five of the dogs I have now are Beagles so they are at least 23 pounds, my heaviest being 41 pounds, and my Schnauzer mix comes in at the 24 pound mark. So I can buy a 6 pack at Walmart.com, have it delivered to my door and have them all treated within minutes!
FRONTLINE® Plus is the #1 name in flea/tick control. It's been proven, and trusted by Vets for more than 20 years. It works for a full 30 days. It doesn't just kill adult fleas and ticks but also slays the next generation of flea eggs and larvae.
When I had the puppies I had the product ready as well! It can be used in puppies (use the 5-22 lb size FRONTLINE® Plus) as early as 8 weeks old if they're over 5 lbs! The moment they turned 8 weeks, they were treated.
Application is easy as well:
Remove 1 applicator from the package.
Hold upright with foil side toward you and snap applicator tip.
Part your dog's hair between the shoulder blades. Place applicator tip just above the skin and squeeze.
Apply entire contents of the applicator in a single spot. Repeat steps 1-4 every 30 days.
There is a myth that I have heard many times that you don't need to treat pets unless it is 'flea season'. Since my only flea outbreak experience ever was when I lived in an apartment with my roommate's dog who did not treat hers, in December, I say that myth is not true. It is imperative that you treat your dog with reliable flea and tick treatment year round
OK. I am off my soapbox now. I am really passionate about flea and tick control for so many reasons, not the least is the added expense of an outbreak to the pet owner so I tend to go on about it!
Make sure You Can Afford Them
This may seem like a silly requirement but people not being able to afford pets is a real reason they are turned into shelters. Know that with flea and tick protection it's cheaper to protect than to treat. The 6 pack of FRONTLINE® Plus for Dogs Flea and Tick Treatment is about $69 for a 6 pack. Check out the Walmart circular at the front of the store on your next trip!
When planning for dog food, buy in bulk and feed them the recommended amount. I go through about 12 pounds a week with 6 medium sized dogs. Buying in bulk helps keep that bill in check.
I buy in bulk for their treats too. At 2 a day for 6 dogs it saved me over time!
Make Sure you Can Love Them
I know this seems to be a silly requirement. But, a lot of people get a second pet to keep the first pet company. While I think all pets need a furry companion I don't think that multiple pets should be had if they are alone all day and evening. Dogs need human love and attention to so make sure you have the time to take any pet on walks and to snuggle with them when they need it!
Give a home to Those Who Really Need One
There are a lot of really cute puppies in pet stores and from breeders. I know. I want one too! But the dogs that really need a home melt my heart. All four of mine are dogs no one else wanted and, I have to say, y'all are missing out. These dogs are AMAZING! They are loving, kind, fun and entertaining. They are the perfect family pets and, I believe, they know they were rescued and love us even more deeply for it. So when looking for that second or third dog to add to your pack, check rescues and shelters first. Those dogs really, really need great homes!
Yes, having multiple dogs can be a challenge. Yes, fostering takes me on the up and down roller coaster of emotion every time. But I love it and I would not have it any other way!
What tips would you add to help people better deal with a multiple pet household?