This is a Sponsored post written by me on behalf of Vectra flea & tick control for SocialSpark. All opinions are 100% mine.
It is well known that I love my dog, Bud. My girls and I dote on him and treat him as if he is a brother or son. And you know that he is all about protecting us… like he did the night we had an intruder…
But no matter how much I love Bud, he can not relax and enjoy his lazy country life in his senior years if he is always scratching at fleas! I mean, really – does anyone see this dog happy with flea and tick itches? LOL
Luckily, there are great products available at your local vet's office like Vectras 3D Flea and Tick control that can keep him happy and healthy and playing with my kids! And right now, you can get a free dose of Vectra flea & tick control. Just click the FREE Sample link and take the coupon to your vet's office!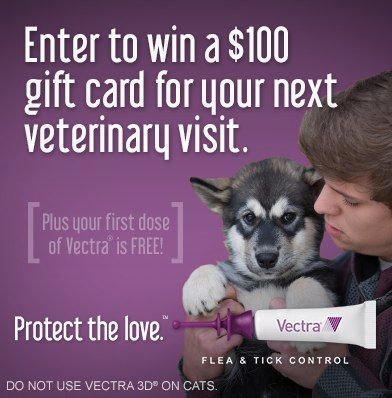 Vectra 3D is fast acting, killing parasites in less than 5 minutes on most dogs (this product is not for cats). And it stays active even if you bathe your dog and kills adults and eggs for a full month. Plus, you can use it on puppies as young as 7 weeks old.
Check out this video below to learn more:
Vectra 3D wants everyone to protect their dogs from potentially dangerous parasites. So head over to Vectra's Facebook Page and enter to WIN a $100 Gift Card to help get you started! A $100 gift card will be awarded WEEKLY through June 30, 2013. So mark it and enter every week!
Follow Vectra on Twitter, too!
I know my dog deserves to be pest free! Tell me about your little pooch and how much you love him or her!