Hi All!
I don't normally blog about hops but I met the BEST people at this one last week, so I had to share it with all of my blogging friends!
Hop on over to SmartandTrendyMoms.com and join in the fun!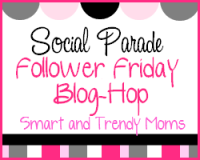 If I have not already followed you from this hop, please leave me a comment and let me know! it is definitely an oversight!
And while you are here, take a moment to check out my Live Giveaways! Great Stuff for Great Readers!