This is a Sponsored post written by me on behalf of Avocados from Mexico for SocialSpark. All opinions are 100% mine.
I love to bake and create fun recipes for my friends. In fact, during this holiday season, that is exactly what my neighbors are getting; baked goods. But sometimes I'd like make them a little healthier and even creamier. So lately, I have learned that you can subsititute oil and butter with pureed avocados! Yep, just replace the exact same amount of butter and oil with avocado and watch your recipe have that little something that no one can quite put their hands on!
To help celebrate all of the baking going on this holiday season and to make your season a little more bright, Avocados from Mexico is having a Avocados from Mexico's Better Baking Sweepstakes! I just entered and it was so easy! I just Liked the Facebook page, allowed the app and entered my contact information! And wala, I was enter for one of the 511 amazing prized below:
(1) Grand Prize – $2,500 iCard Gift Card
(10) Second Prizes – $100 iCard Gift Card
(500) Third Prizes – $25 iCard Gift Card
So easy and fun! The sweepstakes ends 12/31/2012 and you can enter daily!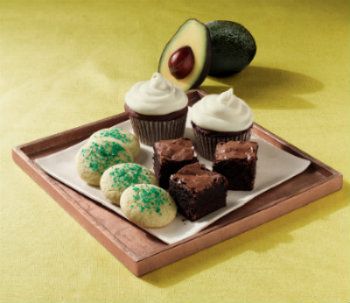 Now, how do I know that Avocados from Mexico are a great substitution for oil and or butter? Because I substituted pureed avacado for 1/4 butter in my favorite over the counter Sugar Cookie recipe! And it came out great! I did not notice a change in taste or color and was impressed with how much creamier the cookies seemed to be. So, if your a lazy baker like I can be, buy your favorite over the counter and substitute the bad fats for some good ones! I bet you'll be surprised!
Don't forget to enter to WIN the amazing sweeps and Happy Bakiing this Holiday Season!