This is a Sponsored post written by me on behalf of White Cloud for SocialSpark. All opinions are 100% mine.
The holiday season is over but the generosity we all felt and thrive on has not! It has not ended for White Cloud either, the paper products brand that is sold at Walmart! White Cloud is teaming up with the Children's Miracle Network (CMN) to help cheer up children in our US Hospitals! These kids have reved up their creative juices to design White Cloud Tissue boxes that will be sold in local Walmart Stores!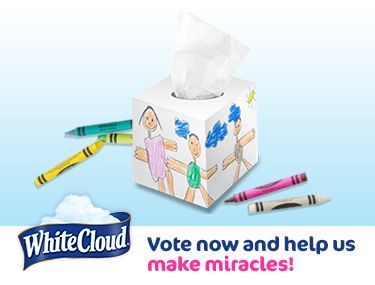 How incredibly cute are these? I so want some for my home!
So basically, these amazing children have poured their hearts into these boxes. Ten (10) of the boxes will get to be voted on to choose the box that will be for sale on shelves. The child that gets the most votes will have the pride of their design being on the boxes and their hospital will receive a generous donation as well!
Like White Cloud on Facebook and Vote now on the Voting App to help out these kids!
I can not think of a more deserving group of people that deserve the chance to gain from their creativity!
And for taking the time to vote, White Cloud has some prizes for you too! Three (3) Winners will be chosen during the course of the contest to win a $25 Walmart gift card and three (3) GRAND PRIZE winners will get a year of White Cloud products FREE! You can gain additional entries to win by sharing the contest with your friends too!
This is a WIN – WIN – WIN for every one. The children, the hospitals and the sweepstakes winners. And look for these awesome tissue boxes on shelves at Walmart too! Find a store near you!
I am headed to vote and share this with everyone I know! I hope you join me in helping White Cloud and the Children's Miracle Network help kids!