This is a Sponsored post written by me on behalf of White Cloud for SocialSpark. All opinions are 100% mine.
The other day, I recieved a bottle of White Cloud Laundry Detergent in Blooming Lavendar at my door. White Cloud is the exclusive brand of Walmart and I have used other White Cloud products and have been impressed. But laundry detergent? Could it really work? Could I Dare to Compare it to my usual detergent and it perform as well if not better?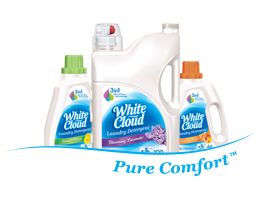 Well, as you know, moms always have a stain – or ten – to get out of laundry on any given day. This one was no exception. My 6 year old had been coloring in her bed the night before and awoke to a large purple stain on her beautiful bedspread. I was so worried that I would have to replace her special bedding that she has had her entire toddlerhood to now. I didn't want to but was concerned a laundry detergent could not get the stain out.
Get a coupon NOW and Dare to Compare! White Cloud to your current detergent. (one coupon per person.)
I grabbed the bottle of White Cloud and prayed! With its 3-in-1 Micro Cleaning Technology, I thought it might just work. I poured a little on the quilt, breathing in the refreshing scent of lavendar and rubbed it lightly into the stain. I then tossed her quilt into the wash and added White Cloud Blooming Lavendar to my HE machine. I pushed start and hoped it would work.
When the cycle was done I was fully prepared to treat the stain again and rewash it. A marker stain is not easy to get out. Especially a dry one that had been slept on and ground in.
To my complete amazement, the stain was GONE! Totally gone off of my daughter's comforter on the first wash! I credit NEW White Cloud laundry detergent for the success!
Since then, I have used White Cloud on every load and have enjoyed clean clothes with a light, fresh scent!
Next time you are at Walmart, pick up a bottle that is a fraction of the cost of the leading brands but works just as well. I bet you will be impressed too!
Find a Walmart near you: Store Locator
Follow White Cloud on Pinterest