*affiliate links may be included in this Easiest Slow Cooker Pork Chops Recipe Ever post. It is non-sponsored
I am a Slow Cooker junkie. I depend on it for great meals that do not take a lot of effort. I love to search the net, with my favor tie site by far, being All Free Slow Cooker Recipes (no, this is not an ad for them, I just love them!). I would make breakfast, lunch, dinner and every snack I could in the slow cooker if I could! My choice of Slow Cookers is my little 3 1/2 quart one. I have a larger one too but most of my meals work well in the smaller one. In fact, the four pork chops for my Easiest Slow Cooker Pork Chops Recipe Ever fit with room to share!
Pork and I have a love, not so love relationship. While I love the flavor and the versatility of the meat, I made it a ton when I was marries as it was my ex's favorite meal. I got burnt out. But, years later, I am starting to reincorporate it into my meals. As long as I can make them in the slow cooker!
This Slow Cooker Pork Chops recipe could not be easier. Hence the title of the post. In 6 hours you will have tender, delicious, flavorful chops that even the kids will devour!

Easiest Slow Cooker Pork Chops Recipe Ever
This Easiest Slow Cooker Pork Chops recipe will thrill your whole family.
Author:
ADayinMotherhood.com - Lori Pace
Ingredients
4 pork chops, I put them in frozen
2 cans of cream of chicken soup
1 package onion seasoning mix
¼ can water
Instructions
Put the chops in a slow cooker that has been sprayer with cooking spray. I did mine from frozen and set the slow cooker for 6 hours on low. If you use fresh, do 4 hours. Toss in the cans of soup, onion mix and water. Cover and let cook.
The soups, onion mix and water create the 'gravy' that covers the chops. For the kids, I shredded their chop, yes, they come out that tender, and covered it with the gravy. They not only ate it all but asked for more! That is a WIN in this household!
Serve your chops with brown rice and some veggies and enjoy your amazing dinner that took no time at all!
I have some more recipes I am going to make that I found on the All Free Slow Cookers Recipe site. Check them out!
Slow Cooker Cabbage – Y U M!!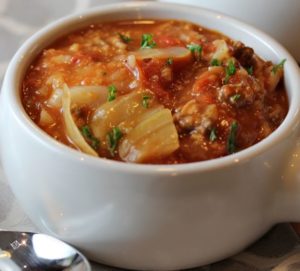 Plus some of these 15 Slow Cooker Ground Beef Recipes. I can't decide… can you?